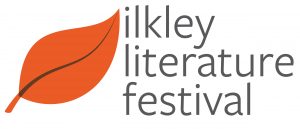 Ilkley Literature Festival is the longest-standing literature festival in the North. First established in 1973, the Festival was launched by W. H. Auden in April 1973 in one of the poet's last public appearances. At first biennial, the Festival became an annual event by 1988, going from strength to strength. For almost fifty years, innumerable incredible writers have passed through Ilkley, from international figures and Booker prize winners like Margaret Atwood, to the inspiring Maya Angelou, to renowned poets closer to home like Poet Laureate Simon Armitage. There have been residencies, literary walks, discussions, commissions, workshops, exhibitions, performances, competitions & opportunities for people of all ages and backgrounds to engage with reading, writing and discover joy in words and stories.
Today, the Festival is held over 17 days at the start of October in the Yorkshire spa town and attracts 24,000 people. Surrounded by the beautiful countryside, and overlooked by its famous moor, Ilkley is only fifteen minutes from Leeds-Bradford Airport and half an hour from the vibrant cities of Leeds and Bradford. The Festival is supported by Arts Council England and Bradford Metropolitan Council and is proud to work with the University of Leeds Cultural Institute as its Higher Education Partner.
Each year, over 180 events take place in a variety of venues across the town and beyond. Activities are no longer confined to October, with projects and outreach events taking place across the year, such as schools visits, children's and young people's creative writing groups and initiatives to widen access and inclusivity.
Watch Erica Morris, Ilkley Literature Festival's Director, explain why the Festival partners with the Prize.