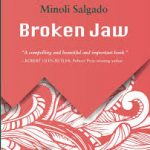 2012 winner Minoli Salgado this week launches her new collection of short stories, Broken Jaw.  Its eighteen stories are set mainly in Sri Lanka from a writer who has gained international recognition for her evocative representation of the trauma of war. This brave and passionate book not only speaks against silences – official and unofficial – but also tests the limits of what can be said, reminding us that though it may be 10 years since the civil war in the country ended, its legacy remains.
The book is divided into two parts, 'Rumours' and 'Ventriloquy and Other Acts', that take the reader on a journey from the public world of political conflict to the private space of home, from the dislocations of violence and migration to a personal quest for peace and renewal, charting the emergence of a speaking voice in the context of its suppression and denial. These intricately crafted stories are at once enchanting and harrowing, full of resilience and courage, suffering and hope.
Minoli Salgado is currently undertaking a Leverhulme Fellowship studying narrative testimony – she undertook an island-wide trip in Sri Lanka last summer, interviewing war survivors whose stories will be part of a future book.
To find out more about Broken Jaw and its launch on 19 June: https://www.the87press.com/events?fbclid=IwAR2rxCrwvm5GcxZ3e6tRSGsWyjLqgWd1MbmDgvWHWfHoWvJAsgVpgYBaVco