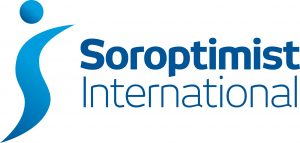 Soroptimist International is a global volunteer movement for women working together to transform the lives of women and girls worldwide.
Soroptimist International (SI) is a vibrant, dynamic organisation for today's women; it is committed to a world where women and girls together achieve their individual and collective potential, realise aspirations and have an equal voice in creating strong and peaceful communities worldwide. Almost   80,000 members across the world work at local, national and international levels towards achieving these goals.
Soroptimist International has General Consultative Status with the UN Economic and Social Council, (ECOSOC).  Upholding human rights is central to the vision of SI. There are 16 Soroptimist representatives working across 6 UN centres who strive to ensure that women and girls around the world are included in international decision making.  SI delegations to major UN meetings and forums advocate policies and actions which support its aims and objectives and reflect agreed position statements on the issues under discussion, they also lobby governments to take action to make sure that women and girls can access their human rights.
About SI Leeds
Soroptimist International of Leeds is part of Soroptimist International of Great Britain and Ireland.   It develops its own projects in partnership with local agencies.
The SI Leeds Literary Prize was established in 2012 to offer aspiring Black and Asian women writers in the UK the opportunity to achieve their potential. Its purpose was also to promote awareness of exciting new talent from a group of writers often overlooked in today's literary world.  SI Leeds member Gail Bolland was inspired to create this new prize by SI Grenoble, a club we have developed a link with over the years, which offers an annual literary prize in France. Together with SI Leeds member Val Saunders she looked at the possibility of something similar for SI Leeds.  Hence, with encouragement from Ilkley Literature Festival and Peepal Tree Press, we embarked on what has become another successful project.  Watch Val Saunders of SI Leeds talk about the Club's founding role in the Prize and how the Prize's aims fit with Soroptimist values.
We have fun working together, and provide support and friendship to women who are new to the area, including new members and those who transfer from other clubs
SI Leeds holds club meetings at 7.30pm on the second Monday of each month at Weetwood Hall, Otley Road, Leeds, and is always delighted to welcome visitors.  
Contact us: secretary.sileeds@outlook.com
For more information, see Soroptimist International, Soroptimist International of Great Britain and Ireland, Soroptimist International of Yorkshire or Soroptimist International of Leeds