Kerry Young was born in Kingston, Jamaica, to a Chinese father and mother of mixed Chinese-African heritage. She came to England at the age of ten. Kerry has a history of non-fiction writing and editing on issues relating to youth work. She also has Master's Degrees in organization development and creative writing, and a PhD.
"I was both surprised and delighted to be invited to chair the judges for the 2014 SI Leeds Literary Prize. As a relative newcomer I know myself how important it is to feel that your work is being recognised, encouraged and supported, especially if you are telling the stories of people and places generally under-represented in mainstream literary cultures. In giving voice to the work of Black and Asian women authors this prize is critical. I applaud the initiative and organisers and am honoured to be a part of it."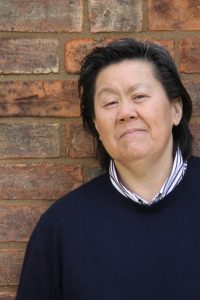 Kerry's first novel Pao, set in Jamaica, was published by Bloomsbury and Bloomsbury US in 2011. It was shortlisted for the Costa First Novel Award, the East Midlands Book Award and the Commonwealth Book Prize.
About her second novel, Gloria, published by Bloomsbury and Bloomsbury US in 2013, Alex Wheatle (author of Brenton Brown) wrote "I fell in love with Gloria and was turning over the pages rapidly, willing her to conquer her situation. A triumph." 
Praise for Pao:
'In pages of patois-inflected prose, Pao celebrates the island's vibrant ethnic mix up … [Pao] confirms Young as a gifted new writer. Her novel is a blindingly good read in parts, both for its mesmeric story-telling and the quality of its prose' The Observer
Praise for Gloria:
'The deeper I went into the novel, the slower I read. I wanted to savour Gloria's journey from a false illusion of shame to self-forgiveness and self-acceptance…..This is a marvellous novel about the importance of family, friendship and finding the courage and strength to be who you truly are, especially during the most challenging times.' Pam McIlroy@Pamreader
Kerry is currently working on Fay, her third novel for Bloomsbury.