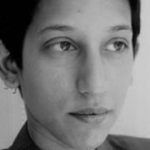 Bidisha is a writer, critic, broadcaster and human rights advocate who has been writing professionally since she was 14 and signed her first book deal at 16. She writes about the arts and social issues for The Guardian, The Observer, The FT, The New Statesman and many other publications internationally. She has been the presenter of Night Waves (Radio 3), The Word, The Strand (World Service), Woman's Hour and Saturday Review (both Radio 4) and numerous arts documentaries for the BBC and is a regular on Front Row, The Big Questions and The Review Show. She judged the Orange Prize in 2009 and the John Llewellyn Rhys Prize in 2010. Her fourth book, a reportage work entitled Beyond the Wall: Writing A Path Through Palestine was published in 2012 by Seagull/University of Chicago Press.

"I was honoured to be asked to be a patron of this prize because I believe in joyful positive action, solidarity and diverse and strong cultural leadership. I believe in celebrating talent from all over the world and all people and I believe in redressing the balance and finding genius where genius always really is: in the places nobody has bothered to look. The prize is important in demonstrating to a world which has always talked down or ignored the value of women's work and of the work of post-diaspora second generation peoples, apart from a very few favoured names, that our genius is plentiful, not rare; prodigious and prolific, not exceptional or occasional; that it is longstanding, not recent; that it is enduring and not a novelty; and that it is strong and powerful, not marginal or unimportant. The prize is a testament to the importance and manifest talent of women and a tribute to the gift of cultural, national, ethnic and linguistic diversity. The prize is important and necessary but, more than that, it is introduced to the world as an act of joy, happiness and the discovery of new work. Join us in celebration."
Watch Bidisha explain the role that the Prize plays in the literary landscape and the cultural life of the UK.